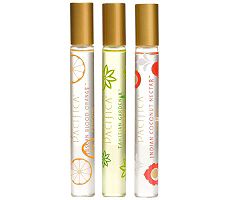 What is it: Invite a loved one to explore the magical world of fragrance with this festively-packaged medley of pretty, portable, and phthalate-free perfume roll-ons. The three Pacifica blends are made with natural grain alcohol and essential and natural oils in Tuscan Blood Orange, Indian Coconut Nectar, and Tahitian Gardenia scents.Who is it for: Truly an ideal gift for fragrance aficionados and dabblers alike.Why is it different: Pacifica products are an accessible luxury that you can feel great about using every day.How do I use it: Apply perfume to pulse points and keep with you for touch-ups throughout the day.From Pacifica.Includes:
24.00
Other Perfume shoppers have bought viewed these.

Burberry By Burberry For Women, Eau De Parfum Spray 3.3-Ounces
Introduced in 1995. Fragrance notes: peach, apricot, sandalwood, cedar, amber and musk. It is recommended for daytime wear.When a…
Britney Spears Women's Fantasy Eau de Parfum, 100 ml/3.3 oz.
Launched by the design house of Britney Spears in 2005, FANTASY BRITNEY SPEARS is a women's fragrance that possesses a blend of ki…
Perfumes: The A-Z Guide
Pompous names, bizarre ads, hundreds of new scents a year?the multibillion-dollar business of fragrance has long resisted understa…