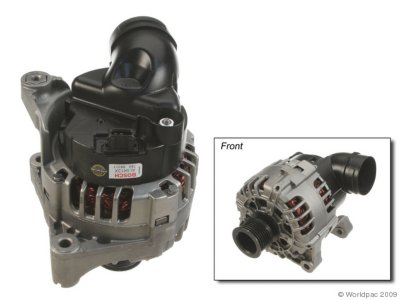 Bosch Remanufactured Alternator
The Bosch Professional Preferred Remanufactured Alternators are built especially for extremes of heat, cold and high demand. They are built to last using the highest quality materials and the most technologically advanced processes.
All alternator parts are 100% factory tested prior to and during remanufacturing to assure that they meet or exceed original equipment specifications. And every Bosch remanufactured alternator is full-load tested to guarantee compliance with Bosch's strict performance specifications..
Features and Benefits
OE-Equivalent Direct Fit Application.
100% exhaustive multipoint quality and performance testing.
100% new high quality bearings.
Voltage regulators and rectifiers 100% tested and replaced where required
Ensures cranking and starting performance under all temperature extremes.
Provides unsurpassed reliability under extreme conditions
Fully tested to meet OE specifications.
Warranty Information: 12 month – 12,000 mile limited warranty against defects in material and workmanship.
---


Remanufactured. Auto Parts Warehouse has extensive Bosch Alternator catalogs.We are now offering FREE shipping on all Bosch Alternator orders over .00. Our secure bosch alternator catalog is available every hour of everyday. Shop with confidence for all your bosch alternator needs. Bosch Alternator are In Stock and available today. Save up to 60% off dealer price on your next Bosch Alternator purchase. Our online catalog contains a wide selection of the OEM and aftermarket parts you need at unbeatable prices
190.95
Check out other Alternators.
Alternator Battery Tester with Red, Green, Yellow LED Lamps
Dead alternator or just a dead battery? This tester pinpoints the trouble spot, eliminating guesswork and saving you costly repair…
EKLIPES EK1-139 Black Automotive Dual Bank Battery and Alternator Tester
The EKLIPES automotive dual bank battery and alternator tester is the most convenient tester on the market today. This product plu…
Manual of Repairing & Reconditioning Starter Motors and Alternators
An area of vehicle repairs that is something of a mystery to many mechanics, repairing alternators and starter motors is shown in …
Cartman 12V Car Battery & Alternator Tester – Test Battery Condition & Alternator Charging
*LED display indicates condition …