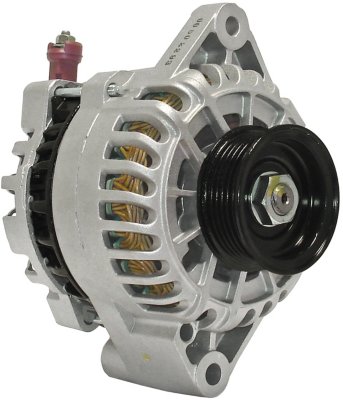 QUALITY-BUILT SUPREME ALTERNATOR, NEW
Quality-Built Supreme Alternators are engineered from the ground up to deliver unsurpassed reliability with each turn of the key. Every Quality-Built product offers maximum dependability for virtually every car on the road, import, and domestic. Manufactured under strict QS-9000 quality guidelines that signifies the highest quality standard achievable for automotive parts suppliers.
Specifications:
105 amps
6-groove serpentine pulley
Internal fan
Integrated circuit-internally regulated
Replaces OE Ford unit
Features:
Engineered to improve upon OE performance and durability
Designed and built for unsurpassed reliability
100 percent new housings and components with the design expertise that comes from countless durability tests and analysis
Complimentary 24/7 Quality-Built (QB) Roadside Assistance Program (RAP) which includes a jump-start or tow for 2 years from the date of purchase limited to 3 events per year and a maximum reimbursement of each event
RAP is available anywhere in the U.S., Canada, and Puerto Rico for passenger vehicles, vans, and light trucks, and operates on a reimbursement basis where customers are required to pay the service provider at the time the service is rendered and submit the corresponding receipt to QB for reimbursement.. Auto Parts Warehouse has extensive Quality-Built Alternator catalogs.We are now offering FREE shipping on all Quality-Built Alternator orders over .00. Our secure quality-built alternator catalog is available every hour of everyday. Shop with confidence for all your quality-built alternator needs. Quality-Built Alternator are In Stock and available today. Save up to 60% off dealer price on your next Quality-Built Alternator purchase. Our online catalog contains a wide selection of the OEM and aftermarket parts you need at unbeatable prices
127.68
Browse more Alternators.