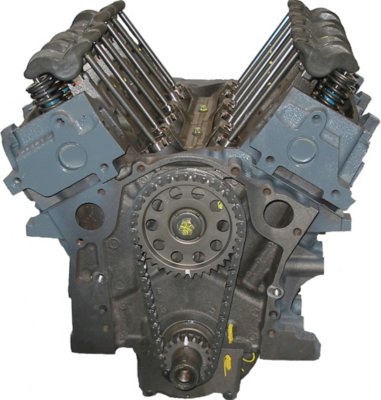 MARSHALL ENGINES PREMIUM LONG BLOCK, REMANUFACTURED
Marshall Engines Remanufactured Premium Long Block Engines are built to the superior quality standards, assembled with precision and impeccable quality control, superior to rebuilt engines, and are shipped with the best warranty in the replacement engine industry. Completely remanufactured engine with all new wear parts, tight tolerances, and run-tested reliability.
Specifications:
OHV
Rear wheel drive
Roller tappet
Features:
100 percent mag inspected and pressure tested, vacuum tested for perfect seal, decks milled and surface checked
Supplied with adjusted valve train components, gasket set, and new oil pump
Bake cleaned and shot blasted cylinder heads
Checked bend and journal polished to achieves perfect seal
Installed camshafts, valves and springs, and 3-angled cut on valve seats
Micro-polished design exceeding the original finish ensuring proper bearing lubrication and a final wash to ensure that crank is clean
. Auto Parts Warehouse has extensive Marshall Engines Engine Long Block catalogs.We are now offering FREE shipping on all Marshall Engines Engine Long Block orders over .00. Our secure marshall engines engine long block catalog is available every hour of everyday. Shop with confidence for all your marshall engines engine long block needs. Marshall Engines Engine Long Block are In Stock and available today. Save up to 60% off dealer price on your next Marshall Engines Engine Long Block purchase. Our online catalog contains a wide selection of the OEM and aftermarket parts you need at unbeatable prices
1661.14
Browse more Camshafts.

Arena Men's Camshaft Polo Shirt (Navy, X-Large)
Camshaft Polo…
Andrews 54H Chain Drive Camshafts 216354
Splined chain drive camshafts Kits include: cams, 1 roller bearing and 1 ball bearing Designed for use with stock Harley-Davidson …
Lisle 18000 Universal Camshaft Bearing Tool
Universal Camshaft Bearing Tool Set…
Volvo Camshaft Crankshaft Engine Alignment Timing Locking Fixture Tool Set Kit for 4, 5, 6 Cylinder Engines
* Applicable: VOLVO models 850, 960, S40, S70 and S90. * Popular Applications include 700, 800, 850, 900, 960, C70 Coupe and Conv,…