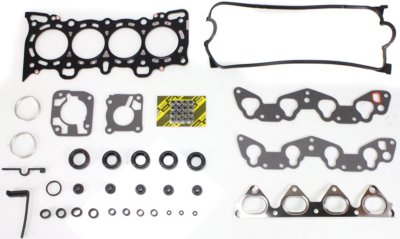 CYLINDER HEAD GASKET SET, MULTI-LAYERED STEEL — Includes 5 cover bolt gaskets, 1 cylinder head gasket, 1 exhaust manifold gasket, 2 exhaust pipe gaskets, 1 intake manifold gasket, 1 oil seal, 12 rubber seals, 2 soft gaskets, 4 spark plug seals, 2 timing cover gaskets, 1 upper intake manifold gasket, 1 valve cover gasket, and 16 valve stem seals; A high quality, OE replacement cylinder head gasket set; Backed by 1-year, unlimited-mileage warranty.. Auto Parts Warehouse has extensive Replacement Engine Gasket Set catalogs.We are now offering FREE shipping on all Replacement Engine Gasket Set orders over .00. Our secure replacement engine gasket set catalog is available every hour of everyday. Shop with confidence for all your replacement engine gasket set needs. Replacement Engine Gasket Set are In Stock and available today. Save up to 60% off dealer price on your next Replacement Engine Gasket Set purchase. Our online catalog contains a wide selection of the OEM and aftermarket parts you need at unbeatable prices
60.94
Others bought these.

Moeller Marine Electric and Mechanical Fuel Tank Sending Unit Gasket (5-Hole)
Moeller 5 – hole Replacement Gasket and Screws for Electric and Mechanical Sending Units. Ultra – durable construction for marine …
Bialetti Spare Parts Gasket and Filter Set, 3 Cup
Includes 3 gaskets and 1 filter for the RSVP Moka Express 6 Cup Stovetop Espresso Makers by Bialetti….
Coolerguys 120mm Anti-Vibration Rubber Fan Gasket – Black
Stop case vibrations, just install inbetween your fan and the chassis or cabinet to help!
Easy and long lasting…