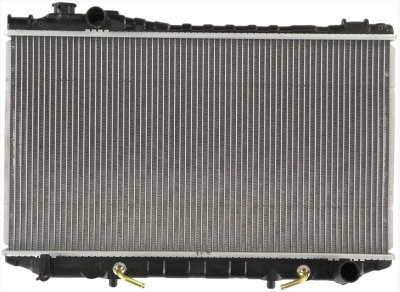 ProRad Aluminum Core OE Replacement Radiator (New)
ProRad focused in engineering engine and its components for popular vehicle applications grants them an edge in the market since 2008. ProRad Radiators are the most perfect replacement when you're restoring or repairing your engine cooling system. These are built to meet or even exceed OE part specifications that ensure precise fit and function with improved wear life.
Item Details:
Aluminum core
Plastic tank
14.75 x 26.31 x 1 in. core size
1.38 in. inlet size
1.94 x 27.06 in. inlet header
Channel mount type
1.31 in. outlet size
1.94 x 27.06 in. outlet header
12.81 in. trans oil cooler
. Auto Parts Warehouse has extensive ProRad Radiator catalogs.We are now offering FREE shipping on all ProRad Radiator orders over .00. Our secure prorad radiator catalog is available every hour of everyday. Shop with confidence for all your prorad radiator needs. ProRad Radiator are In Stock and available today. Save up to 60% off dealer price on your next ProRad Radiator purchase. Our online catalog contains a wide selection of the OEM and aftermarket parts you need at unbeatable prices
116.59
Check out other Radiators.

Radiators
Import exclusive compilation for the Aussie rock outfit will be appreciated by anyone with a taste for good old fashioned Aussie p…
Wild & Free
The Radiators, Wild and Free…
DeLonghi TRD0715T Safeheat 1500W Portable Oil-Filled Radiator with Vertical Thermal Tunnels
The DeLonghi TRD0715T Safeheat 1500W Portable Oil-Filled Radiator features vertical thermal tunnels engineered to maximize radiant…